Expansion
Joints
in
Seattle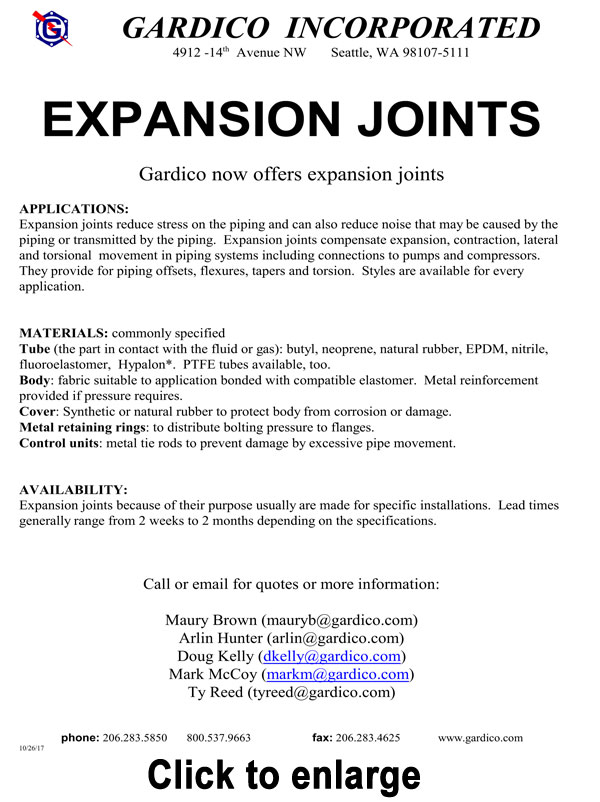 We supply expansion joints that are used to connect machinery to piping or to isolate one pipe from another across multiple industries.
These include neoprene expansion joints for water-related applications and the use of nitrile (NBR, buna-n) or Viton® materials for fuels and oils applications, single and double arches, and rubber and solid steel flanges.
They are engineered for easy installation in a variety of piping systems to:
Reduce the mechanical noise
Compensate for any misalignment
Reduce strain from pumping surges, load stresses, thermal changes and settling wear
Absorb movement types
We also offer a custom expansion joint pipe uniquely fabricated to absorb motion and displacement between pipe flanges or to accommodate pipe size reductions.
Call Gardico, Inc. to discuss cost-effective solutions for alleviating piping stress problems.
Neoprene
Expansion
Joints
for
Water
We can create the right solution to remove pulsations generated by machinery such as water pumps with our neoprene expansion joint specifically designed to expand in an outward direction as each pulse passes through the joint.
They are built for applications in circulating water systems, in sewage disposal plants, in water treatment facilities, and in maritime and industrial facilities. Additionally, they are:
Built for flexibility and durability
Built to compensate for offsets from piping misalignment
Resistant to vibration, noise and corrosion
Designed to relieve system strain from load stress and pumping surges
Built to exceed specifications for pressure and movement
We also offer similar constructions specifically engineered for applications involving fuels and oils utilizing elastomers such as nitrile (NBR, buna-n), and Viton® materials.
If you have a utility or process system in need of a custom expansion joint, we have the capabilities to fabricate it to meet your specific requirements.
Call us. We have the resources and skills to find the right solution for your application.
Custom
Expansion
Joints
If we do not carry a standard product to meet your requirements we can fabricate the optimal expansion joint for your application.
In general, it consists of a neoprene body, or a specified elastomer for a custom application, and metal flanges to match the piping system to:
Compensate for piping misalignment
Isolate vibration
Reduce mechanical noise
Call Gardico, Inc. to learn how we can help you with proper selection of a standard product, or fabrication of a specialized custom product. 206-283-5850